Skiing in Lake Tahoe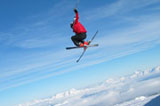 Lake Tahoe is a resort destination that boasts pristine beauty. The area features high mountains that surround the second deepest natural lake in the U.S., 274 days of sun, 300 inches of snow, and year-round adventure and activities. Lake Tahoe offers something for everyone!
Lake Tahoe spans the border of California and Nevada high in the Sierra Nevadas. Its inviting natural beauty draws visitors in to enjoy the wonderful skiing and snowboarding. Annual snowfalls range from 400 to 500 inches, providing plenty of deep, fresh powder. There are 12 ski resorts spread throughout the mountains surrounding Lake Tahoe. The family-friendly resorts welcome skiers, snowboarders, and cross country skiers with terrain and parks that please everyone from first time skier to the most advanced.