Lake Tahoe Water Sports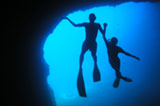 Summer in Lake Tahoe provides an endless list of water sports and activities. Choices include boating, fishing, parasailing, paddle-wheel dinner cruises, even scuba diving! The choices seem endless, just like the beautiful scenery.
Whether you're looking for a weekend trip or a week-long vacation, you're sure to find an enjoyable and memorable trip at Lake Tahoe. Located on the border of California and Nevada, this breath-taking mountain lake offers something for everyone.
There are many operators around the lake, offering whatever equipment you need for your adventure, to buy or rent. Many also provide tours, training and tips on the best locations. Any equipment you'll need is available, assuring you the best possible experience.